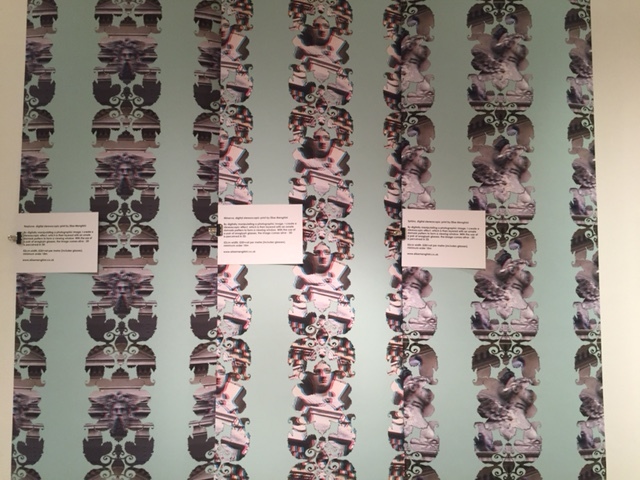 3 May - 10 May 2016
My stereoscopic wallpaper was selected to be part of The Craft of Wallpaper, an exhibition curated by Charlotte Abrahams, style writer for The Guardian, as part of London Craft Week, held at the Geffrye Museum. My work was shown alongside Claire Coles, Waybreads, Graham and Brown, Identity Papers, Juliet Chadwick, Linda Florence, Erica Wakerly, Fromental, CUSTHOM and Tracy Kendall. The exhibition aimed to raise wallpaper beyond the decorative and demonstrate the real skills involved in its making. I was also part of a panel discussion titled Papered Walls: Process and the Power of Pattern, preceded by each designer giving a talk explaining digital process and inspiration. The Geffrye Museum is a restored 18th century almshouse and its eleven period rooms span from 1600 to the present day. Each room represents the main living space used by a family and their guests - a fitting location for displaying contemporary wallpaper designs.
Finding inspiration in the lost and almost forgotten craft of Victorian stereo photographs, my simple stereoscopic technique uses a single photographic image I have taken. When duplicated and slightly offset with anaglyph red and blue separation, it creates the illusion of depth when viewed with a pair of anaglyph glasses. This occurs because the brain, receiving the red image in one eye and blue in the other, fuses the two into a binocular sensation of three dimensions as we are used to doing in life.
With my wallpaper, I have created a further illusion of looking through a 2 dimensional window into a 3 dimensional world. I have used architectural imagery, but a good 3D subject of a client's choosing could produce the basis for a customised wallpaper design, creating an interior that reflects the occupant's personality, while expressing their individuality.
The stereoscopic wallpaper is available to purchase by the metre in three designs - Minerva, Neptune and Sphinx. Please contact me for further details.